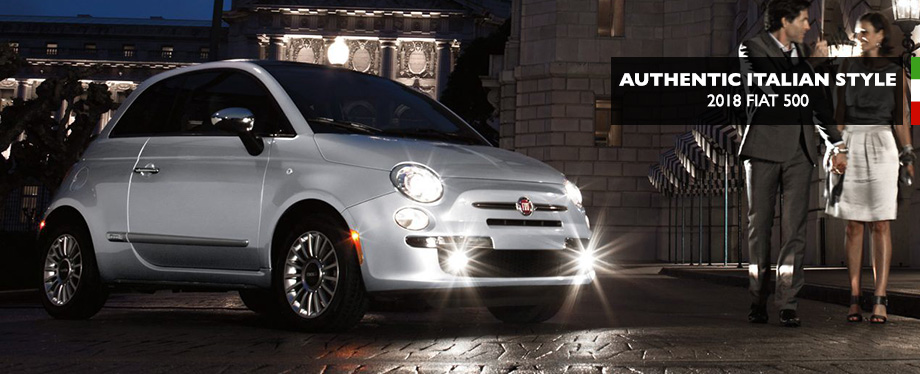 Just The Right Amount Of Quirkiness vs. A Misguided Attempt To Be Cool
Italians are known for beautiful style and design, and this is evident in Italian cars. Even the highly affordable 2018 FIAT 500 from Crown FIAT of Dublin is stylish inside and out. This makes it unique in its class, as most cars this affordable are bare bones in every way. The new FIAT 500 is also surprisingly spacious inside, given it economical size.
The 2018 Smart Fortwo tries to stand out from the crowd of affordable subcompact cars, but many feel that its style is off-putting rather than quirky. Also, the interior is quite cramped.
If you want an affordable car that has its own unique style, stop by Crown FIAT of Dublin to test drive a 2018 FIAT 500 today.

Putting A Smile On Your Face vs. Getting From Point A To Point B
The new FIAT 500 is designed to put a smile on your face instead of just getting from Point A to Point B. This is another aspect of the driving experience that sets the 2018 FIAT 500 apart. You might expect a car this affordable to be boring to drive. However, the new FIAT 500 comes with a standard 135-horsepower turbo 4-cylinder engine. The standard transmission is a 5-speed manual, and a six-speed automatic is optional. This powertrain, coupled with the 2018 FIAT 500-s very low weight, gives it the most enjoyable driving experience in its class.
The 2018 Smart Fortwo has a noisy and sluggish 3-cylinder engine. It has been criticized for its lack of performance, and the engine also doesn-t deliver particularly impressive fuel economy.
Experience the difference that comes from a driver-centric approach to building a small car. Test-drive the new FIAT 500 at Crown FIAT of Dublin today.

An Impressive Package of Technology vs. A Meager Lineup of Optional Tech
The 2018 FIAT 500 packs a real tech punch for its class. It has a standard digital instrument cluster with a 7-inch screen which offers greater readability and functionality. There is also a 5-inch color screen that incorporates a backup camera. The new FIAT 500 even has available parking sensors.
The 2018 Smart Fortwo has almost no standard tech to speak of. There aren-t many tech features available as options, and what is available can get quite expensive.
Class-Leading Safety vs. Barely Adequate Driver Protection
The new FIAT 500 features levels of safety that are impressive for any class. The 2018 FIAT 500-s full-featured approach to safety is unique in its subcompact class. These features include a comprehensive set of 7 airbags, disc brakes on all 4 wheels, and stand Electronic Stability Control. Most of the other cars in the new FIAT 500-s class, such as the 2018 Smart Fortwo, don-t offer this full set of safety features.
To see for yourself how the safety tech in the new 2018 FIAT 500 enhances the driving experience, stop by Crown FIAT of Dublin today for a test drive.
If you-re in the Dublin, OH, Columbus, OH, Springfield, OH, or Easton Town Center, OH, areas drop by Crown FIAT of Dublin today and drive the cutting-edge 2018 FIAT 500.