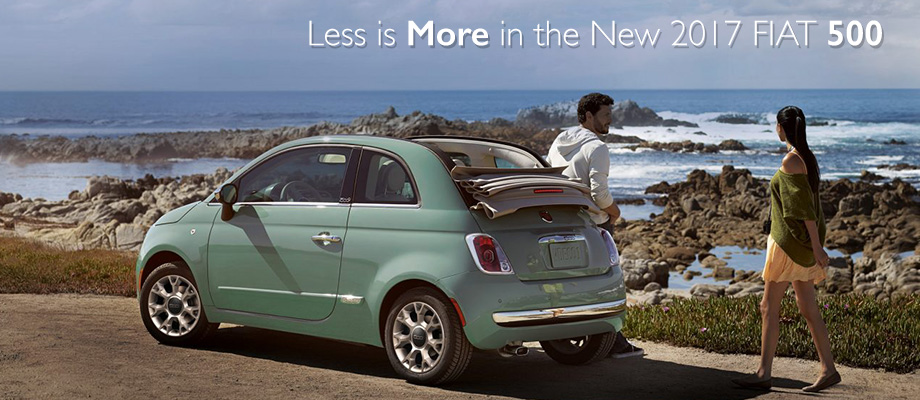 Visit Crown FIAT of Dublin and See if the Fresh New FIAT 500 Fits Your Lifestyle
From tiny houses to tiny cars, Americans are downsizing just about everything. This philosophy has enabled FIAT to find a new generation of fanatics, eager to share its quirkiness to anyone within ear shot. Big on style and big on gas mileage, the bite-sized Italian car with its huge range of customization options continues to find new followers from Dublin and Columbus to Springfield and East Town Center.
The four-seat 2017 500 at Crown FIAT of Dublin features three models: Pop, Lounge and Abarth - each includes a wealth of options ranging from turbochargers to transmissions and more. The base model, the new FIAT 500 Pop, is priced at $14,995 - about $5,000 less than MINI Hardtop 2-door. Even its upgraded models, like the Lounge and Abarth, arrive with a lower sticker price than the MINI.

For an everyday car - one that's affordable, stylish and fun to drive - perhaps no other vehicle on the road says "arrivederci" to boring quite like the brash the 2017 FIAT 500.
Straight Lines Are For Squares
Right from first glance, the new 500 was built to attract. With 15 exterior colors to choose from and an exterior shape that's more bubble than brick, the 2017 FIAT 500's design looks neither forced nor purposely trendy.

From its grinning front end, with its button-like headlights and happy-faced grille, to its trapezoidal, yet rounded tail lights and hatchback rear end, the 2017 FIAT 500 proves Italian style isn't just for those with country club memberships.
Interior Style That's Through The Roof
Inside the 2017 FIAT 500, drivers in Dublin and Columbus will find many of the same things they would in any compact car with two big exceptions - a huge sunroof and a sense of Italian style more typically found in vehicles approaching six figures.

With its eye-catching, multi-colored and playful dash, just sitting in the new  500 feels like a flashback to the 1950s when FIAT first introduced the 500 to the world stage. But unlike those first models, the new 500 at Crown FIAT near Columbus features all the modern tech drivers desire. Interior features include: Vehicle highlights include:
7-inch customizable Driver Information Digital Cluster Display
Uconnect 5.0 with Bluetooth Streaming Audio & Hands-Free Calling
Leather Seats
Leather-Wrapped Steering Wheel with Integrated Audio Controls
Automatic Temperature Control.
All this FIAT flair makes the 2017 500's cabin feel much larger than it is - and with the sunroof open and its split-folding rear seat down - drivers will be surprised by how much they can stock inside.
FIAT 500 Goes Farther
Powered by a peppy 1.4-liter 101-horsepower MultiAir 16-valve four-cylinder engine and getting up to 31 city/38 highway miles per gallon, the 2017 FIAT 500 has better combined fuel economy than the Chevrolet Spark, Kia Rio and Hyundai Accent, as well as the 2016 Ford Fiesta and Volkswagen Beetle.

Want more power? You can get it. The turbo version turns the horsepower up to 135. Still want more? Get it with the snarling 160-horsepower Abarth.

Buyers of the new FIAT 500 also have their choice of two transmissions - the standard 5-speed with manual shift or the 6-speed automatic transmission available in the upgraded turbo or Abarth versions.

Savvy. Smart. Safe. Secure
2017 FIAT 500 drivers and their passengers are protected by seven airbags, electronic and stability control, a steel safety frame and a 48-month 50,000-mile basic limited warranty. That's longer than Ford, Chevrolet, Volkswagen, Honda and Nissan.
On A Scale Of 1 to 10, It's A 500. Get Your 2017 FIAT 500 At Crown FIAT of Dublin
Ohio State students, residents of Dublin and Columbus: It's time to go big on style. Visit Crown FIAT of Dublin and test drive the affordable, fun and stylish 2017 FIAT 500.